Watauga Lake, Tennessee:
Insiders' Vacation Guide 2023
Watauga Lake, nestled in the Appalachian Mountains and the Cherokee National Forest in northeastern Tennessee, enjoys the most stunningly beautiful lake and mountain views in the 'Volunteer State'. Started in 1942 and finally dammed on the last day of 1948, Watauga Lake is the TVA's highest-elevated reservoir in Tennessee. Surrounded by densely forested mountains in the "high country", Watauga Lake sits 1,959 feet above sea level at "full pool" (full summertime elevation). At Watauga Lake, it's usually a few degrees cooler than similar locations closer to sea level.
Find the Best Watauga Lake Rentals and Hotels
Watauga's surface covers 10.05 square miles of two mostly-rural Tennessee counties: Johnson County and Carter County. Watauga Lake is accessible only by winding mountain roads. The Appalachian Trail crosses the southwestern tip of Watauga Lake. The lake is located south of Mountain City (Tennessee), west of Boone (North Carolina), east of Elizabethton (Tennessee), southeast of Bristol (Tennessee), southwest of Damascus (Virginia), and northeast of Johnson City (Tennessee).
James Mooney, an American anthropologist, said that that the meaning of Watâ'gi (commonly misspelled Watauga, Watoda, Wattoogee, and Whatoga) has been lost (Myths of the Cherokee, 1900). However, there are several conjectured meanings of "Watauga" that you can find online: "beautiful waters", "clear waters", "whispering waters", "running waters", "falling waters", "foaming at the mouth", "village of many springs", "broken waters", "river of plenty", and more. Regardless of its true semantic origins, most visitors agree that Watauga Lake is all of the above.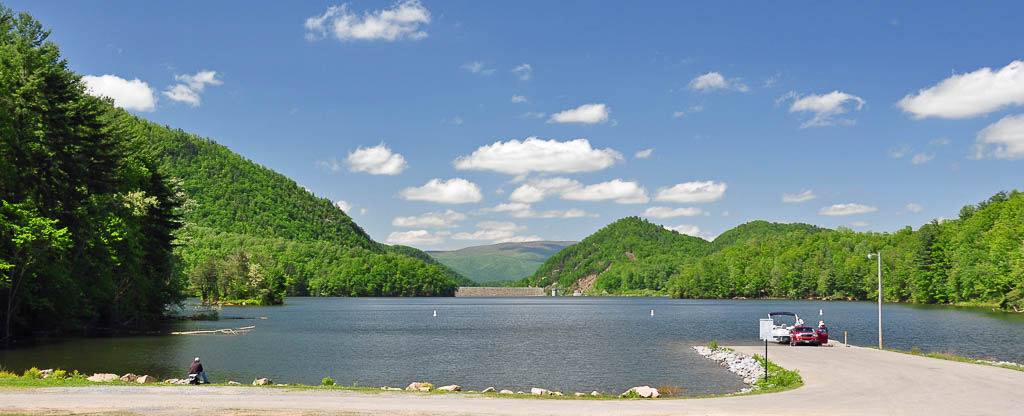 Because of its relatively difficult road access, Watauga Lake is lightly touristed. You'll find just one small motel and several seasonal marinas and restaurants with waterviews on its 104.9-mile shoreline. Large-scale lakefront real estate development is limited by Watauga Lake's steep shoreline and by the scarcity of buildable, privately-owned waterfront property.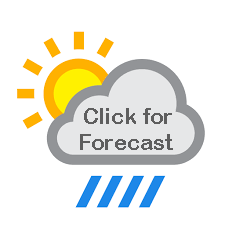 Part of Watauga Lake covers what was once Butler, Tennessee. Old Butler -- as it is now called -- was a town where Native Americans interacted with white settlers, Daniel Boone stopped to rest, and pioneer families farmed for generations. The TVA's decision to dam the Watauga and Elk Rivers sealed Old Butler's fate: it would soon lie on the bottom of the new lake.
Instead of watching Old Butler disappear, its citizens relocated their town to higher ground. "New" Butler is located lakeside and is home to the Butler Museum, which preserves the history of life in Old Butler. The museum has exhibits, artifacts, and displays with old quilts, photos of the old downtown, and other reminders of Old Butler. More than just a museum, it takes visitors back to the pre-Watauga Lake days of Old Butler.
Watauga Lake is a man-made reservoir built by the TVA (Tennessee Valley Authority) for flood prevention, creation of aquatic habitat, and hydropower generation. Recreation and tourism have produced economic and quality-of-life benefits for Watauga's surrounding communities. The TVA began building the Watauga Dam on February 16, 1942. Construction was postponed on December 21, 1942 to divert funds to WWII-related efforts, then resumed again on July 22, 1946. The gates to Watauga Dam finally closed on December 31, 1948 -- and Watauga Lake was born.
The Watauga Lake Dam is an earthen structure -- 331 feet high, 925 feet long, and 1275 feet thick at its base. The dam includes 350 million cubic yards of material. Building Watauga Lake incurred 10,274,559 man hours of labor. One man lost his life during Watauga's construction and 48 others were injured.
In the past, Watauga Lake has been drawn down to the riverbed by the TVA for a visual inspection of the earthen dam, exposing the remains of Old Butler and providing an opportunity to repair docks, stabilize the shoreline, and to add fish-attracting structures. A drawdown is no longer necessary; the submerged portion of the dam can now be viewed with the use of remote controlled vehicles.
Watauga Lake, aka Lake Watauga, is 16.2 miles long and covers 6,430 acres (10.05 square miles). At full pool, it's 265 feet deep at the dam and 305 feet at its deepest. According to the TVA's Reservoir Operations Study (2004), Watauga Lake boasts 104.9 miles of shoreline. Just 47 miles of shoreline are privately owned. Many of those 47 "private" miles are below the 100-year flood plain (1,975 feet above sea level) and can accommodate only temporary structures like RVs and campers. The other 58 miles of shoreline are public land. Most of those 58 are part of Cherokee National Forest and can never be developed, helping Watauga Lake to remain the TVA's most beautiful and pristine mountain-surrounded lake.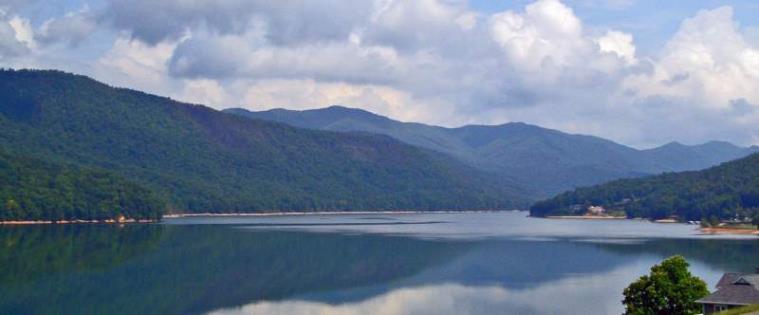 Watauga Lake's water level usually drops seasonally by as much as 10 feet to about 1,949 feet above sea level. In times of drought, like 2007-2008, the water level can drop by 20 feet or more. The TVA tries to maintain "full pool" during summer months -- Watauga Lake's peak recreational season. Off-season the water level is typically 1,949 feet above sea level, anticipating spring rains and snow-melt from the surrounding Appalachian Mountains. [For a mobile app that shows water levels, follow the previous link.]
Watauga is a great place for boating, fishing, and swimming, yet contrary to often-repeated but unsupported claims, it is not the "third cleanest lake" in the USA. Watauga Lake's ecological health was rated mostly "good" by the TVA from 2010-2018. Several of the 31 TVA lakes had higher ratings; see the ecological health ratings for all 31 TVA reservoirs - Apalachia, Bear Creek, Beech, Blue Ridge, Boone, Cedar Creek, Chatuge, Cherokee, Chickamauga, Douglas, Fontana, Fort Loudoun, Fort Patrick Henry, Guntersville, Hiwassee, Kentucky, Little Bear Creek, Melton Hill, Nickajack, Normandy, Norris, Nottely, Parksville, Pickwick, South Holston, Tellico, Tims Ford, Watauga, Watts Bar, Wheeler, and Wilson.
See the TVA Website for info on all of its lakes and rivers. Contact the TVA Public Lands Information Center with questions on environmental issues, including Watauga Lake's water quality.
Watauga Lake Lodging
If you're planning several days' stay at Watauga Lake, here are some "sample" vacation rentals and other lodging options. Full-week vacation rentals are ideal for families or for couples sharing costs. Rates vary by season; summer is "peak season."
Lakefront & Off-Water Vacation Rentals: For a wide variety of weekly and weekend vacation rentals, check VRBO.com and Lakelubbers.com.
Bed and Breakfast: Iron Mountain Inn / B&B is located off-water on 140 acres atop Iron Mountain. This luxurious, secluded log home, rated 4.5 stars on TripAdvisor, is located just six miles from Watauga Lake. Breakfast is included; dinner requires 24 hours' notice. $155-$300/night. They also offer Watauga lakefront homes. Phone: 423-768-2446.
Lakefront Resort: Lakeshore Resort offers lakefront lodging for one night or longer. Choose from rooms, cottages and cabins (some have fireplaces). There's an outdoor pool, and a dock for your boat. There's also a restaurant on the premises and a marina next door. $99-$300/night. Phone: 423-725-2201.
Lakeview Cabins: Cherokee Forest Mountain Cabins are located off-water with spectacular birds-eye views of Watauga Lake. These secluded mountaintop log cabins border Cherokee National Forest. The steep gravel road to these cabins is well-maintained. $170-$230/night. Phone: 423-768-4484.
Off-Water Retreat: Sugar Hollow Retreat, located on 300 acres, offers a 10BR lodge, 4 guest houses, a conference center, and an amphitheater -- ideal for family reunions, weddings, church groups, and corporate retreats. There are nine miles of hiking trails, a large deck overlooking Watauga Lake, and a 9-hole frisbee/golf course. $275-$1100/night. Phone: 423-768-3105.
Camping: Roan Creek Campground offers rustic cabins, luxury camping tents for "glamping", and RV and tent sites. $15-$75/night. Phone: 423-768-0012. Cardens Bluff Campground, about $15/night, overlooks Watauga Lake in the Cherokee National Forest. Watauga Dam Campground welcomes RVs for about $30/night. Phone: 423-543-0233.
Proposed Resort: Plans are underway for a 130-acre, 20+ room inn, with a restaurant and space for corporate events and weddings. The planned resort is near the town of Butler, requires approval by Carter County, and faces local opposition.

Watauga Lake Real Estate
Watauga Lake is a beautiful and serene choice for your first or second home. Like any lake, Watauga Lake has its own set of unique factors to consider when you buy real estate.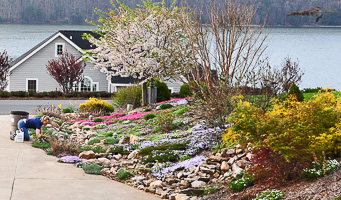 Watauga lake is nestled amongst the Appalachian Mountains. Most waterfront property is steep. Gently sloping lots are rare. Many homes quite literally sit mountainside. Seasonally changing water levels create a unique challenge for docks on Lake Watauga. Property owners must take special care to float their docks up and down as lake water levels change. You must also be sure that your lake home's waterfront will not be dry when Watauga's water level falls to 10 feet or more below "full pool."
If you decide to buy lakefront real estate at Watauga Lake, be prepared for a challenge. Just 47 of the 106 miles of lakefront shoreline are privately owned, so there are few waterfront homes on the market at any given time. Watauga Lake is large (6,430 acres), but developments are few. Potential buyers have several decisions to make. Do you want your own slice of wooded privacy, or do you prefer a development surrounded by neighbors? Can you drive half an hour for groceries, or do you want closer shopping?
Choose your real estate agent with care. There is a centralized Watauga Lake MLS (Multiple Listing Service), but some homes at Watauga Lake are "For Sale By Owner" (FSBO) - and never appear on the MLS. You should choose an agent with whom you feel comfortable and who knows the lake well. You or your "buyer's agent" should also regularly scout neighborhoods that interest you to find newly available FSBOs. Zillow.com lists both types of properties, but not all of the FSBOs.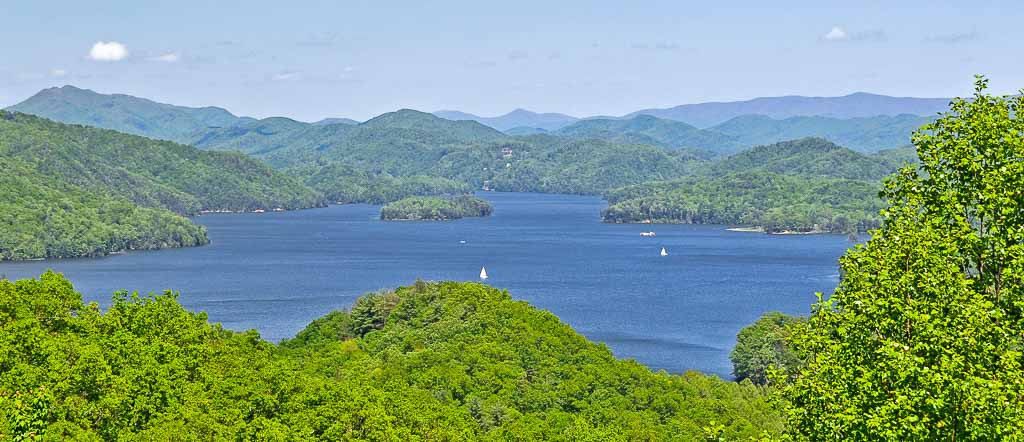 If you want to buy a waterfront or off-water home or lot at Watauga Lake, these real estate companies (alphabetical) recently advertised lake-area homes and lots for sale. Companies in Butler are closest to Watauga Lake:
Berkshire Hathaway (Johnson City TN): 423-282-2411
Century 21 Whitehead Realty (Elizabethton TN): 423-543-4663
Cherokee Forest Homes (Butler TN): 423-768-3800
Crye-Leike (Johnson City TN): 423-232-0099
North East TN Real Estate (Johnson City TN): 423-282-1050
Prudential Greg Cox Real Estate (Johnson City TN): 423-282-2411
Wakeman Realty (Boone NC): 828-262-1260
Watauga Lake Real Estate (Butler TN): 423-768-3333
Watauga Lake Activities - What to Do?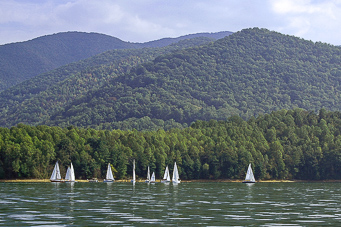 There are many water activities at Watauga Lake: swimming, fishing, power boating, houseboating, sailing, canoeing, kayaking, parasailing, water skiing, jet skiing, and wakeboarding. You can launch your boat on Watauga Lake at several public and private boat launching ramps and marinas for a small fee - usually $5 or less. And there are several campgrounds At Watauga Lake that welcome RVs and other campers.
Several National Recreational Areas are located on the southern shore of the western arm of Watauga Lake (see: webcam at Lakeshore Marina). These Recreational Areas are wonderful places to enjoy the natural beauty of Watauga Lake, share a picnic, camp, and relax. The only public beach at Watauga Lake is located at one of the Recreational Areas. The beach and surrounding area are a great place for a family to spend an afternoon picnicking and playing in the water. A public boat launch ramp at Rat Branch Recreational Area (map) collects a small launch fee on the honor system - and also offers a fishing pier. The more remote Sink Mountain Boat Launch ramp (map) off Lakeview Road - at the northeast corner of the lake - charges no launch fee.
If you enjoy fishing, Watauga Lake stocks Black Crappie, White Crappie, Bluegill, Brown Trout, Lake Trout, Rainbow Trout, Largemouth Bass, Smallmouth Bass, Spotted Bass, and Walleye. If you fish at Watauga Lake, please note that a Tennessee State Fishing License is required.
Fishing guides are available at Fish Springs Marina. "Watauga Joe" Bailey specializes in lake trout and rainbow trout. Southern Appalachian Anglers Guide Service targets smallmouth, largemouth, and spotted bass. Trophy Water Guide Service is a professional fly-fishing guide service.
Off-water you'll enjoy spectacular views and sightseeing opportunities from the many official and unofficial scenic overlooks. Get in your car and head up some of those narrow mountain roads! Be sure to avoid the ones marked "private."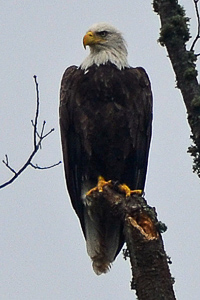 Cherokee National Forest surrounds Watauga Lake and is home to bubbling brooks, hiking trails, waterfalls, and secret spots just waiting to be discovered. Wildlife is abundant, including the occasional bald eagle. Phone: 423-476-9700.
The Appalachian Trail crosses Watauga Lake at the Visitors Center near the Dam. Hikers cannot ask for a better opportunity. Join the Appalachian Trail Conservancy: 304-535-6331.
Johnson County's first farm winery, Watauga Lake Winery, is elevated 2,350 feet above sea level and overlooks the lake in the "historic" Dry Run School. Phone: 423-768-0345. Their tasting room includes wines from nearby Villa Nove Vineyards. Both are part of the High Country Wine Trail - a perfect outing on a hot, cold, or rainy day. Cheers!
Have you (or your kids) ever been to a drive-in theater? They're vanishing fast, so don't miss this one. Elizabethton's Stateline Drive-In features family-friendly movies at reasonable prices, weekends from April to September. Operating since 1947, the Stateline is located on Highyway 19E South between Elizabethton & Hampton. Holiday weekends include double features. Call for the current schedule: 423-542-5422.
Are you physically fit? Participate in the annual Watauga Lake Triathlon.
Are you visiting on Independence Day? Enjoy the annual July 4th houseboating parade and festival at the Captain's Table Restaurant.
Watauga Lake - Day Trips
Further afield, there's shopping and antiquing in Boone (North Carolina), Johnson City, and Elizabethton. Consider these day trips. Drive times are estimated from the center of Butler: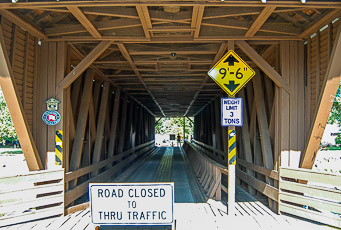 Watauga Lake - More To Do Nearby
Chambers of Commerce - Surrounding Watauga Lake
Chambers of Commerce - Near Watauga Lake
Newspapers that Cover Watauga Lake
Watauga Lake Restaurants
Looking for Watauga Lake restaurants? You'll find seasonal restaurants with lakeviews, plus a few more within 5 miles of Watauga Lake's 106-mile shoreline. You'll find many more in the nearby towns of Mountain City, Elizabethton, Johnson City, and Boone. Near the lake, most restaurants close or reduce their hours after the peak summer season. Some are open weekends-only. $=Least Expensive, $$$$=Most Expensive. $ ratings are relative to other restaurants near Watauga Lake.
Watauga Lake Restaurants - Lakefront & Lakeview
Captain's Table (Seasonal, 423-725-2201) $$$
Burgers, steaks, seafood & pasta, served lakefront
Call to confirm hours. Located between Watauga Lake Markers #1 and #2.
2340 Highway 321, Hampton, Tennessee
Cove Ridge Grill (Seasonal, Fri/Sat/Sun, 423-768-3741) $
Light breakfast/lunch: burgers, hot dogs, sandwiches, chicken tenders, served lakefront
Call to confirm hours. Located in the Butler cove.
947 Piercetown Rd., Butler, Tennessee
Mallard Cove Marina Snack Bar (Seasonal, 423-768-3440 or 423-957-6589) $
Burgers, hot dogs, sandwiches, and fries, served on the dock
Call to confirm hours. Located near Watauga Lake Marker #4.
200 Mallard Cove Drive, Butler, Tennessee
Watauga Lake Restaurants - Off-Water
Butler Trading Post (423-281-1078) $
Breakfast, pizza and more -- to go or eat-in
16308 Hwy 67 W., Butler, Tennessee
Dry Hill General Store & Deli (423-768-3084) $
Family-priced deli sandwiches, breakfast & lunch
1535 Dry Hill Rd., Butler, Tennessee
Monsoon (423-768-3327, closed Wednesday & Sunday) $$
Fresh Thai food, dine in or take out. Try their egg rolls.
10630 Hwy 67 West, Butler, Tennessee
Shirley's Home Cooking (Seasonal, 423-768-2092) $$
Family-style buffet meals served at the table
3266 Highway 321, Butler, Tennessee
Watauga Lake Restaurants - Nearby Towns
Coffee House Cafe (423-727-0317) $$
Lunch (plus Dinner Thu/Fri): Sandwiches, Salads, Wraps, Homemade Desserts
122 Murphy Street, Mountain City, Tennessee
La Cucina Italian Kitchen (423-727-0205) $$
Gourmet Italian Food with TripAdvisor's Highest Rating
6811 Highway 67 West, Between Butler and Mountain City, Tennessee
Panda Garden (423-727-6478) $$
Chinese Food
170 Pioneer Village Drive, Mountain City, Tennessee
Poblano's Mexican Grill (423-727-7400) $$
Mexican Fare
203 Pioneer Village Drive, Mountain City, Tennessee
Suba's (423-727-5657) $$$
Diverse gourmet menu with long dessert list
2736 S. Shady Street, Mountain City, Tennessee
Watauga Lake Boating & Marinas
When you boat at Watauga Lake, please be careful and courteous. The Tennessee Wildlife Resources Agency (TWRA) is an excellent source of information about safe boating.
Boating Courtesy and Safety
Safety Equipment: You should carry this safety equipment in your boat: a wearable and properly-sized personal floatation device for each rider; a whistle or horn, a fire extinguisher, a flat throwable flotation cushion, your boat rental agreement (if applicable) and your boat registration certificate. Children under 14 should always wear a personal floatation device.
No Wake Zones: Within 50 feet of shore, another boat, a swimmer, a dock, or a no-wake zone (indicated by no-wake buoys) you are required by law to operate your boat at your boat's lowest possible navigable forward speed.
Other Rules and Regulations: Please review TWRA's online boating information (including regulations) carefully before you boat at Watauga! You can get a copy at any marina.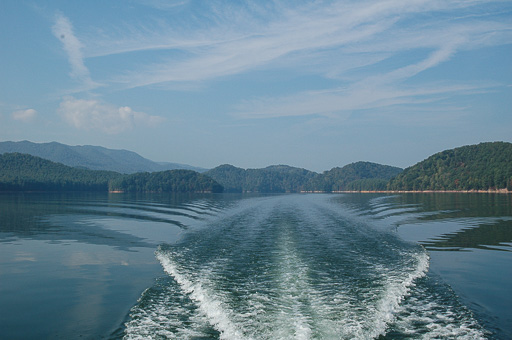 Watauga Lake Marinas with Boat Gas
To gas up your boat while cruising Watauga Lake, here's where to go. Call each marina for hours, directions, and current gas prices. Some marinas are seasonal.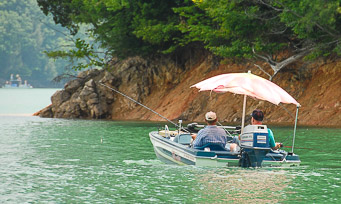 Watauga Lake Boat Rentals
Boat Rentals are available at most of the marinas listed above.
In 2013, Carefree Boat Club arrived at Lakeshore Marina on Watauga Lake with an alternative to renting. They offer shared boat ownership that enables you to have access to a boat without buying it. There's an initiation fee plus a monthly fee that provides access to a boat when you need it - at Watauga and about two dozen other lakes.
Watauga Lake - How to Get Here
Watauga Lake (map) is located in the northeast corner of Tennessee, 45 miles south of the Tennessee/Virginia border and 10 miles west of the Tennessee/North Carolina Border.
The directions below will take you to the SR-67 bridge that crosses Watauga Lake. The town of Butler TN is located 2 miles north of that bridge; Butler is the only town located on Watauga Lake. The roads near Watauga Lake are mountainous, winding roads. Expect sharp curves (many are unmarked) and drive slowly.
After you arrive at Watauga Lake, visit any marina to buy a detailed, waterproof map of the lake for about $8. If you plan to explore the lake, these maps will help you to find the local roads that lead to Watauga Lake's many coves.
Watauga Lake Driving Directions from Virginia I-81
Travel south on I-81 in Virginia to Exit 29 (SR-91 exit at Glade Spring VA). At the bottom of the ramp, turn left onto SR-91 south. Follow SR-91 south approx. 15 miles to the Tennessee border, near Damascus VA. Continue on SR-91 approx. 12 more miles to Mountain City TN, where SR-91 turns right (West Main Street) and becomes SR-67. Follow SR-67 approx. 18 miles, past the town of Butler, to the bridge that crosses Watauga Lake. This mountainous, winding route is very secenic, especially near the Virginia/Tennessee border. It should take you 60-70 minutes to reach Watauga Lake after you leave I-81 at Exit 29.
Watauga Lake Driving Directions from Boone NC
Leaving Boone NC, travel west on US-321/US-421 for approx. 5 miles, until the two highways separate. Turn left onto US-321, then travel west for approx. 11 miles to the Tennessee border. Continue approx. 12.5 miles west on US-321 until you reach SR-67. Turn right onto SR-67, and follow SR-67 north about 1/2 mile to the bridge that crosses Watauga Lake. This route is mountainous, very scenic, and includes many sharp turns. It should take you 40-50 minutes to reach Watauga Lake after you leave Boone NC.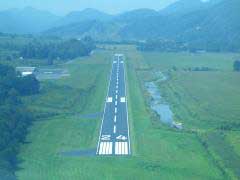 Johnson County Airport
If you fly a small plane, you can land it at General Aviation Airport 6A4, the Johnson County Airport in Mountain City, Tennessee. It's about 12 miles north of Watauga Lake, with an elevation of 2240 feet and a runway that's 4498' x 75'. They sell 100 low lead and Jet A fuel. Enterprise Rent-a-Car is on-site.
Contact: Bob & Cindy Johnson, Doe Mountain Aviation LLC, 611 Airport Rd., Mountain City, TN 37683. Phone: 423-727-1223.
Watauga Lake - How Far?
The distances shown below are measured, using Google Maps, from the SR-67 bridge that crosses Watauga Lake. Shorter routes may be available.
Asheville, North Carolina: 78 miles
Atlanta, Georgia: 284 miles
Boone, North Carolina: 31 miles
Bristol, Tennessee: 36 miles
Charlotte, North Carolina: 131 miles
Chattanooga, Tennessee: 241 miles
Columbia, South Carolina: 217 miles
Johnson City, Tennessee: 26 miles
Knoxville, Tennessee: 130 miles
Lexington, Kentucky: 260 miles
Raleigh, North Carolina: 223 miles
Roanoke, Virginia: 166 miles
Winston-Salem, North Carolina: 117 miles

About this Watauga Lake Webpage
This webpage is owned and operated by G&C Ventures, LLC, headquartered at Smith Mountain Lake, Virginia. The site was developed by the late Brian Raub and his daughter Erin Raub in 1998. Its mission is to share information and resources for those looking to vacation at or relocate to Watauga Lake.
All text and photos are Copyright © 2006-2023 Raub's Internet for Business LLC and G&C Ventures LLC. All rights reserved.
G&C Ventures LLC also owns and operates:
Contact Us!
Contact and advertising information:
email G&C Ventures LLC
P.O. Box 812
Hardy, Virginia 24101
540-358-1053
Please Link to Us!
Please link to us with this HTML code:

<a href="http://www.WataugaLakeTennessee.com/"> 
Watauga Lake, Tennessee</a> 
- Insiders' Vacation Guide.
If you copy and paste the above HTML code, it should look like this on your links page:
Watauga Lake, Tennessee - Insiders' Vacation Guide.
---
Website Last Updated April/14/2022; Website Created Sep/29/2006.
Thanks to Vikki Woods, Elizabeth Wallace, Terry Wallace, and Bob Theriault for their help with updates.
---